WellCaddie's AmpClamp is great for mining, agriculture, commercial HVAC, commercial real estate, and other applications!
AmpClamp measures amperage through a wire and sends data wirelessly to the internet.
Buy a kit and save.
Includes: Nema 4 Enclosure, adapter board, internal antenna, power supply, and 12 month website subscription.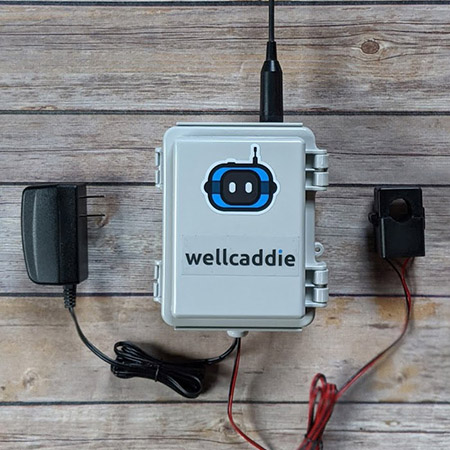 Features
Measures 1-100 amps*
Rugged Weather Resistant Enclosure
High/Low Text/Email Alarms
Online Chart/Tables
Updates Every 15 Minutes
Specs
Connectivity: LTE Cellular (AT&T®)
Oper. Voltage: 120v AC
Oper. Temperature: -20° to 85°C
Update Interval: Every 15 Minutes
Notes
Would you like field service help with this device?  Consider our fast and friendly experts.  Add Local Field Commissioning and Support to your order.
For your records, please provide the site name in the notes when you checkout.
*If the expected amperage is greater than 100 amps, please reach out to us.
Volume Pricing Available.  Contact us for a quote. support@wellcaddie.com